Early Childhood Rudolf Steiner Education -
for people working with young children in the vital years.
Early Childhood Rudolf Steiner Education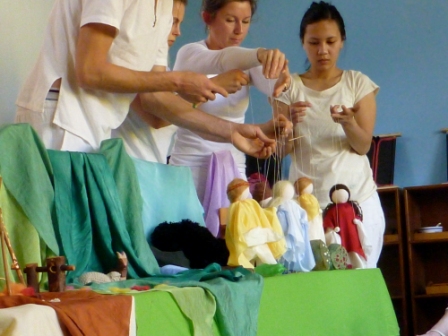 A part-time online course for parents and people working with young children in the vital years.
Join us on-line for this unique live streaming course in Rudolf Steiner Early Childhood Education in 2021!
This one year part-time course will offer early childhood educators in all settings an inspiring professional development opportunity to develop new skills and deepen their understanding of Rudolf Steiner education for the 'vital years' of early childhood. It is also very suitable for anyone interested in education, personal development and the arts who loves lifelong learning – everyone is welcome!
This online course will be live-streamed, allowing you to engage directly with the Tutor. It will also be recorded for those people in time zones around the world.
Subjects you will study in this course:
The program provides participants with a comprehensive overview of child development based upon the picture of human development given by Rudolf Steiner.
In addition the course offers participants inspiration, ideas, tools and practical experience in bringing age appropriate activity to the early childhood setting in which they work and/or parent.
We will explore topics including:
Subjects you will study in this course:
The program provides participants with a comprehensive overview of child development based upon the picture of human development given by Rudolf Steiner.
In addition the course offers participants inspiration, ideas, tools and practical experience in bringing age appropriate activity to the early childhood setting in which they work and/or parent.
We will explore topics including:
Artistic work is woven throughout the course including painting, drawing, modelling, handcraft. Other work best suited to face to face learning including Eurythmy, singing, , participating in Morning Circle, will take place in the March intensive (see below).
View the  complete timetable here.
Intensive experiential weekend.
An important additional aspect of this course is the March Experiential Intensive which will run from Friday 5th March (from 5.00 pm) to Sunday 7th March 5.00 pm. By meeting face to face and working together we have the opportunity to:
Have a rich experience of core areas of Steiner education that require your active participation, and which will considerably deepen your understanding of what comes throughout the course in subsequent terms. This includes
singing and gestures; morning circle for kinder; puppetry; story telling; eurythmy; painting; soft and hard craft which are immeasurably more satisfying and meaningful when you are doing it rather than watching it on line;
Develop relationships with your tutor and fellow students with whom you will be studying online- this will enhance your experience for the rest of the course.


We understand that for a range of reasons, some people may not be able to attend this Intensive. Therefore we have set it as stand alone 'add on' to the online course, and it will be charged separately. It will also come with an additional certificate of professional development hours, acknowledging your participation over the weekend.
The Intensive will include all artistic materials, meals and tuition. It does not include transportation or accommodation.
NOTE: If the challenges we are all currently facing due to the COVID pandemic continue to impact on events such as our Intensive, we may need to reschedule to a later date.
We warmly encourage you to join us for this weekend, to participate in it fully for the entire program. For people in Victoria and Tasmania, there is a public holiday on Monday 8th March. For those outside of Victoria, there is the chance to fly home on Sunday night or Monday morning in time for personal commitments.
Gaining recognition of completed Professional Development hours through these courses.
Our part-time courses come with a certificate of Professional Development Hours, subject to meeting the course requirements:
Each evening will be live streamed and recorded. We hope this will be an enlivened experience for you. We require your attendance at 80% of sessions in order to gain the acknowledgement of PD hours completed AND
A simple but meaningful assessment task at the end of each term which will be based on some general questions about what you have gained from all sessions completed to date. This is a required step as part of meeting PD standards in Australia.


Recorded sessions
Sessions will be recorded and stored for up to 2 weeks in case you miss a session. If you are not able to participate in the live streamed sessions, you can watch these on catch up.
Materials you will need to purchase for the online course.
Teaching through the arts, and teaching artistically is a key aspect of Steiner education. Developing artistic skills and nourishing your own inner life is an important part of teacher development. All our courses weave classes in clay modelling, painting, drawing, hand craft as well as artistic movement, singing and drama throughout the week.
You will need to have access to or purchase some art materials. The absolutely essential items are:
the 'wet on wet' painting paper and the Stockmar paints which can be purchased online from Mercurius or from other suppliers. You could buy one each of red, yellow and blue or if you feel expansive, there is also the set of six which contains two tones of each colour.
Flat 18 mm brush for painting
smooth hand building clay
large format paper (A2)- suggest a cartridge spiral bound which becomes your portfolio. Otherwise, newsprint or cartridge loose large sheets is fine also.
Coloured pencils
Crayons in blue, red and yellow.
Information:
International and local students.
This course is open to local and international students. You will need sufficient proficiency in English to be able to participate. We do not require a IELTS test however as advice to you if English is not your first language, you would need to be able to participate at IELTS level 6.
The fees are the same for local AND international students.
Duration: one year part-time, over four terms .
Every Wednesday evening from 7.00-9.15 pm during school term dates. Note: as schools around Australia all have different term dates, we have endeavoured to schedule our course dates to fit in with everyone.
Course Cost: $420 per term
Cost: $395 Intensive in March
Term dates 2021:
Term 1 (7 weeks): Wednesday 10th February – Wednesday 24th March
Term 2 (7 weeks): Wednesday 28th April – Wednesday 9th June
Term 3 (7 weeks): Wednesday 21st  July – Wednesday 1st September
Term 4 (7 weeks): Wednesday 6th October- Wednesday 17th November
Enquiries:
Email: office@steinerseminar.com
Phone: 9876-5199
Teaching faculty.
This course brings together highly experienced teachers who have been working in Steiner/Waldorf early childhood settings and in adult education for decades.
Course Presenters: (note: information about presenters will be updated shortly)
Sue Gould
Leanne Moraes
Peggy Day
Cheryl Nekvapil
I began teaching at Glenaeon in 1980. The first 17 years were spent mostly in the Kindergarten and a Steiner preschool, Cherry Tree, as well as some class teacher work. In 1998 a new step began with the writing of the re-accreditation of the Advanced Diploma of Rudolf Steiner Education in Sydney and then taking over as coordinator of the course at Glenaeon School until 2010. During these 12 years I tutored in Kindergarten Studies, Festivals, Fairy Tales and Storytelling as well as Steiner Pedagogy, Life Phases and Biography. In 2010 I began work as the Lead Writer of the Australian Steiner Curriculum Framework. This involved writing the core subjects for Kindergarten to Class 6 and supporting the writing of the Arts, Health and PE and Technologies. Since 2017 I have worked 2 days per week part-time with SEA in the areas of curriculum development and support, promoting Anthroposophical Study, Environmental Education projects, Reconciliation, liaising with Home Schooling families and supporting integration of Berry St Victoria Trauma informed practices. My work 3 days per week with 12 most wonderful staff at Glenaeon Preschool continues and in 2013 I wrote an alignment booklet for Australian Steiner preschools linking Steiner Pedagogy and the EYLF through mapping documents. Life and its work is very rich, fruitful and at times challenging in our age but also a privilege at this time in world history.
Sue Gould has had the great joy of working with young children all her life, beginning with caring for her siblings and later as a Kindergarten teacher. "I have always been aware that early childhood is a special time of life. Alongside this I have always loved music and movement and eventually I studied to become a Eurythmist. After my training I went on to study Curative Eurythmy and here I found a way to combine all my loves. It is both a privilege and a joy to do this work. With the fast pace of modern life, and the increasing use of technology, I have a deep appreciation of just how important movement, song and experiencing warmth and humour are for the health of the young child. Over the past 20 years I have been working in Steiner/Waldorf Schools around Australia and in Teacher Education. Most recently I have worked closely with colleagues in Vietnam, assisting in establishing kindergartens and providing professional development for Kindergarten teachers there. This has been enormously satisfying work. I am fortunate to be able to continue my life long love of working with children, parents and adult students, and am always deepening my knowledge and understanding of the young child in the light of Anthroposophy. I look forward to working with you all in this course over the coming terms."
Connie Grawert has been involved in Steiner early childhood education and its anthroposophical framework for many years. She was in the founding group of the Samford Valley Steiner School in Brisbane in 1987, taught grades 1-3 and then kindergarten before retiring from teaching in 2011. Since 2011 she has continued to engage in training, consulting and professional development in Steiner early childhood education in Australia, China and Vietnam.
She has given courses and seminars for Steiner early childhood teachers and parents, travelling widely in Australia, coordinated and lectured for 6 years in the internationally recognised Steiner kindergarten training in China and is a lifetime member of the Australian Association of Steiner Early Childhood Education (AARSECE). She was on the executive committee of AARSECE and acted as Star Weavings editor for many years. Connie lives in Brisbane, is married with 2 sons and 4 grandchildren aged between 1 and 9. She also has a large stepfamily with grand- and even greatgrandchildren. Spending time with family is one of her greatest pleasures in "retirement".
I have been a kindergarten teacher all of my adult life. I am entering my 40th year of teaching, taking a only a couple of years off to parent my three children. I have had the good fortune to teach at the Melbourne Rudolf Steiner School for 28 years, working across the sector from family play groups, kindergarten and prep. I love my work, as it embraces a wide breadth of learning and skill set: story telling, parent liaison , festivals, nutrition , gardening , the arts and crafts , environment care and sustainability, to mention a fe . There are always new and wonderful things to learn and discover within the curriculum but more importantly with the meeting of new children and their families each year. I have been involved in teacher training here and in India, and have participated in the Vital Years conference. I have also previously been in the association supporting early childhood in Victoria and Australia. In my spare time I have three young grandsons to share in my life.
After qualifying as a physiotherapist specialising in obstetrics and child-development, I taught 'natural' birth-preparation classes for women and their partners. At the same time I was a full-time home-maker with my husband and our 4 children. In a further development of this phase of life, I went on to work as a kindergarten-prep teacher at Orana Steiner School in Canberra for 5 years, and then for 5 years in whole school governance and administration as the school grew to offer classes kindergarten-prep to year 10. I was ordained as a priest of The Christian Community in 2002 having studied in Stuttgart in Germany, and since then have continued involvement in Steiner Education as: school chaplain/wellbeing support person; Board member; presenter at teacher conferences; organisational consultant; parent educator; mediator; youth co-ordinator; enthusiast for a wholistic approach to the development of human beings.
I have been a Steiner Early Childhood teacher for 40 years. I founded 2 Steiner Kindergartens in Germany . Here in Australia I worked for 24 years at Glenaeon Rudolf Steiner School for many years as an Early Childhood coordinator establishing playgroups, and together with a dedicated team setting up the preschool. I have given workshops and talks to parents for many years and I am a tutor of Sydney Rudolf Steiner College Early Childhood Courses . I am the co-author of the book Early Childhood Wisdom. I am also the mother of 3 children and have 5 grandchildren
How to apply
To apply for this course click the button below to fill out an online application
Further information:
+61 3 9876 5199 or office@steinerseminar.com.

*Note: The part-time 'Early Childhood Rudolf Steiner Education Course'
is not an accredited course, and is not eligible for VET Fee Help