2023 Primary Class 1 & 2 Teacher Spring Intensive
A four-day in-person block intensive for Primary Teaching Class 1 & 2
1-4 September 2023
Welcome the Spring term in with an invigorating Primary Class Teacher block intensive for learning, fellowship and fun.  
This in-person block intensive can be attended on its own, or can be taken to complement our part-time online Primary Class Teacher course, depending on your needs.   It is suitable for you if you would like to support children in this significant transition phase from Early Childhood as they enter the classroom to be your students.  You could be:
a primary class teacher and assistant in Steiner schools,
a mainstream teacher and teaching assistant in the primary school,
a parent and homeschooling parent,
a University student studying education or teaching, and
anyone who would like to learn about practical, engaging activities for children
All sessions are based upon the indications of Rudolf Steiner.  In this block intensive, you will understand and experience: 
the gesture of the child of this age as they encounter the world, and
the accompanying classroom and practical activities to support them
We will also offer:
resources to support your work as educators of your class or child
opportunity to visit Steiner school 1 & 2 classroom
a colleagial environment in which you can share your experiences and questions and discuss topics related to the challenges of todays teaching*, such as:  
            – How do we reconcile what is asked of us by regulatory bodies with our philosophy?
            – How do we support community and our parent body with our work?
            – How can we be better supported to understand and read the children who come to us with all their differences and special needs?
You will come away with the understanding and confidence in skills to build upon for work with children of this age group.
You will also have a chance to relax to a dinner and folkdancing on Saturday evening.
This course will give you a certificate of professional development hours referencing the Australian Teacher Professional Standards.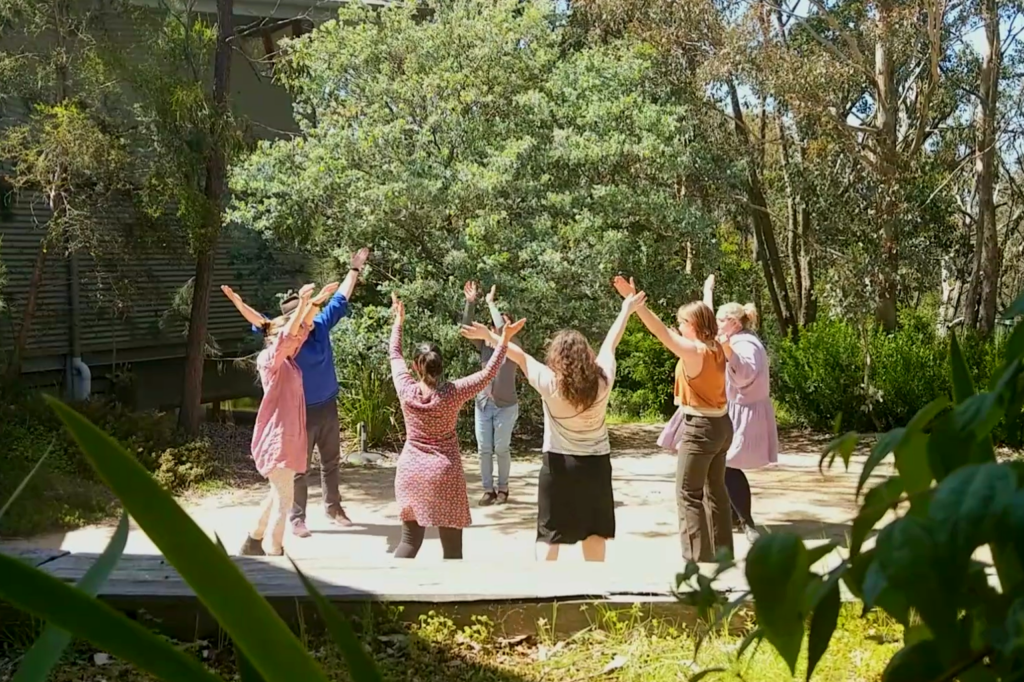 The Class 1-2 teaching programme will give participants the opportunity to appreciate the importance of age appropriate learning pathways through artistic activity, each with its own focus, and each meeting a different aspect of child development. Out of such an understanding confidence in the way we can work with our individual child or class of children will be built. 
Morning circle:
Each morning, at the start of Main Lesson,  the children come together through music, movement, rhythm, speech, and cognitive exercises. This prepares the children for the day by recalibrating the social unit of the class community. It is a healthy, organic and rhythmical way to start the day and is vital for learning. Through it the children are awakened, their attention focused. Previous work is consolidated as classwork is revisited and reintegrated. It therefore becomes a pedagogical tool.
Story Telling:
An age appropriate story told daily by the teacher stirs the inner life of the child.  In hearing the stories the child  unconsciously withdraws from ordinary physical perception and enters the realm of imagination enabling the images shaped by each individual child to resonate within their heart, unfiltered. Story telling is central to Steiner teaching. In them the children encounter  archetypal characters which result in transformation / metamorphosis as they encounter  themselves. 
Artistic activity provides the foundation for an interest in the world later in life. This comes about because through artistic activity the child enters with every fibre of their being,  with physical and soul, not for any set purpose, but out of enthusiasm, connection, and interest. Whether painting and drawing, storytelling and singing, shaping textiles and clay or thoughtfully observing nature, our soul is stirred and satisfied as freedom in artistic expression is experienced and a sense of gratitude for the world around us deepened.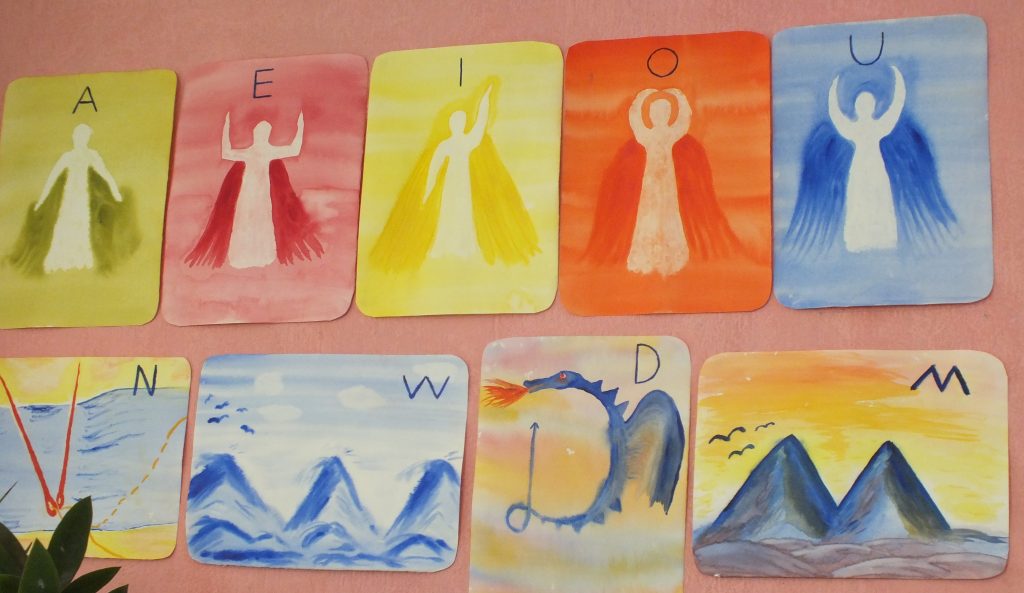 Primary Class 1 & 2 intensive timetable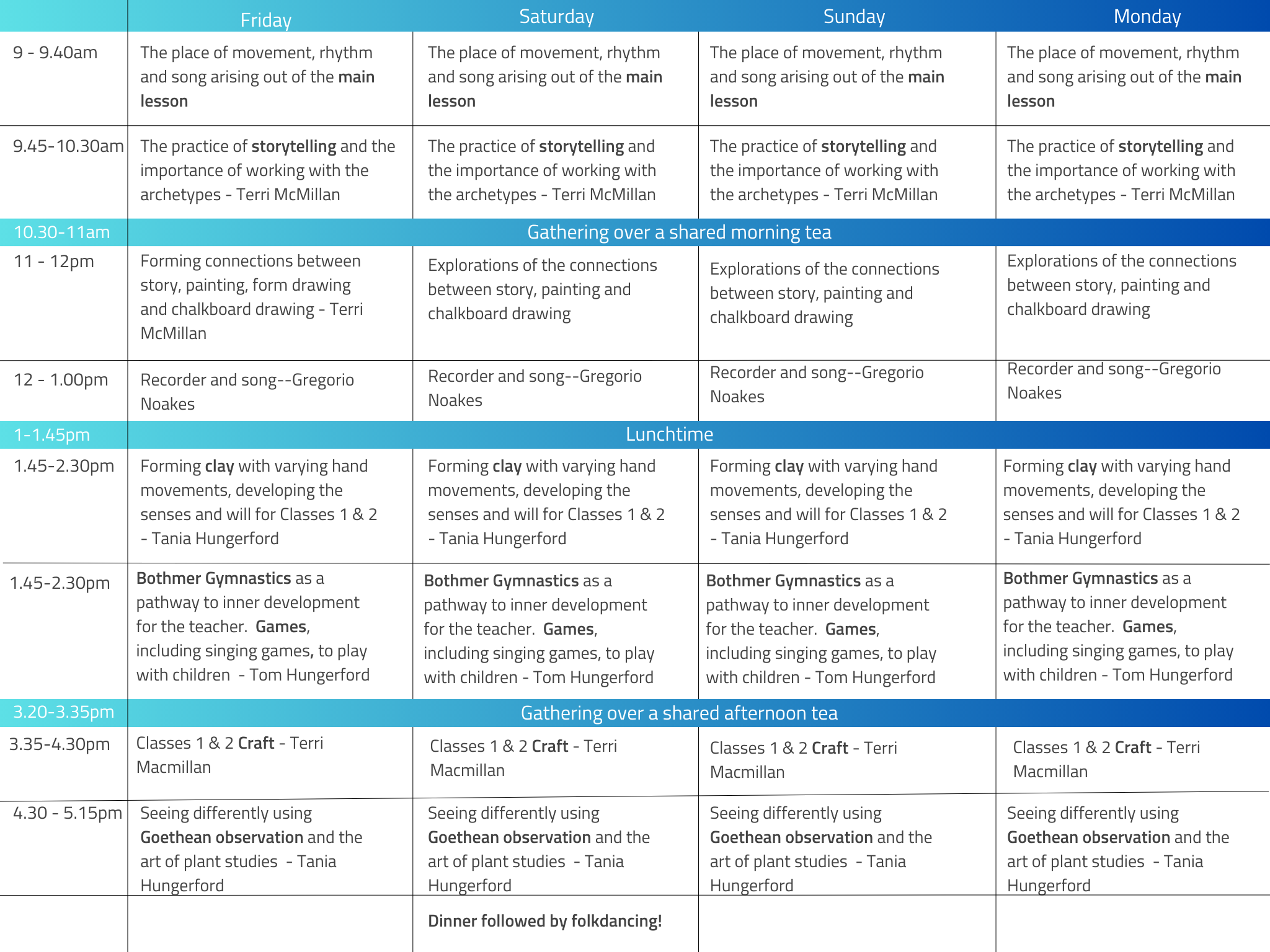 1-4 September 2023.  Friday 9.00am – Monday 5.15pm.
This is an in-person event and no recordings will be made.
Cost: $850.
Enrolment enquiries: Carmen 03 9876 5199 or email c.kwong@steinerseminar.edu.au.
There are a number of options for accommodation:
Commercial
·         Air BnB – https://www.airbnb.com.au/warranwood-australia/stays
·         Bungunyah Apartments – perfect if you are bringing your family – https://www.bungunyahapartments.com.au/
Billeting
We may be able to organise billeting for a few students depending on availability of rooms in homes.
Camping or Seminar classroom
The Seminar can offer basic accommodation of a tent space or classroom (to be shared), shared kitchen, bathrooms, and shower.  You will need to bring your own bedding, towels, toiletries.
Please let us know if you would like to stay on the Seminar grounds.
Morning and afternoon tea and Saturday dinner will be provided.
Café
There is a very good café a 10 minute walk from the Seminar for breakfast, or lunch.  Lunchtime food order can be phone through at morning tea time and collected during the lunch break.
Grocery stores
There are two small shopping strips for groceries and cafes within a 5 minute drive of the Seminar at McAdam Square and North Ringwood. You are welcome to use the Seminar's kitchen for meal preparation.
There is a SkyBus service from Tullamarine Airport to the city.  For more information see https://www.skybus.com.au/southern-cross-station/
Two train lines connect Southern Cross station with Ringwood, our closest train station.  They are the Lilydale line and Belgrave line.  From the Ringwood station, take the 364 bus to the front of the Seminar at 37A Wellington Park Drive.
For more information about public transportation in Victoria see https://www.ptv.vic.gov.au/journey
Clothing and toiletries
Because there will be lots of movement during the intensive, please pack comfortable, loose clothing and shoes that are easy to move in.  Melbourne in early September is cool to cold compared to some other parts of Australia, so please bring very warm clothes for the evening and layers for the day. Include a raincoat and Eurythmy slippers if you have them.
Study material
·         Your recorder
·         Notepads or main lesson books, pencil or pen
·         Folder for holding handouts
Bedding
If you are staying on the premises you will need to bring:
·         Camping mattress
·         Sheets, pillow
·         Blankets, doona
·         Towel
Please notify us by email if you will be withdrawing from the intensive. 

·      ·       If you withdraw on or before 25 August we will refund any fees paid less a $175 administration fee.  If you withdraw after 25 August and before the intensive starts, we will refund any fees paid less a $245 fee for admin and food/materials costs.

No refunds will be considered once the intensive begins.