Simple wood carving - a beautiful bowl.
A short experiential course on campus Term 1, 2022
These beautiful bowls, carved from Huon pine more than 1000 years old, sanded smooth and polished with flaxseed oil, are examples of our project for our Term 4 Saturday afternoon arts short course at the Seminar.
Join us to learn new skills in wood carving with chisels, enjoy a social experience outdoors (weather permitting) with afternoon tea, and experience the joy of developing yourself through artistic activity.
Develop carving skills which you can apply to many other projects- from simple shapes, to organic forms.
This seven week program is for everyone; no prior experience is necessary and all materials will be supplied.
In the event of COVID restrictions preventing us from meeting on site, we will reschedule affected sessions. Please take into account that flexibility in this regard will be necessary, before you enrol. 
This gathering will be capped at 15 participants. 
Our part-time courses are non-accredited and do not lead to a qualification within the Australian Qualifications Framework but rather offer  a Certificate of Professional Development upon completion.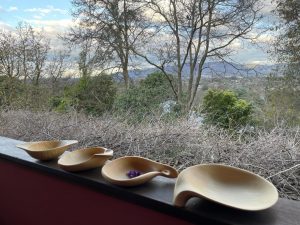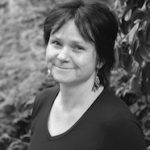 Tania Hungerford has taught at the Seminar for more than 20 years and over this time has developed rich and meaningful learning experiences for the many students who have come to study here. She teaches across a range of courses and subjects, bringing a depth of experience working out of anthroposophy,and drawing on a comprehensive background of training in the areas of sculpture, social science, form drawing, biography work, counselling and art therapy.
Tania teaches subjects in the full time Advanced Diploma of Rudolf Steiner Education, including: Sculpture, Form Drawing, the Twelve Senses, Human Development, the Four Temperaments, Goethean Observation, Professional Communication and Conflict Resolution, understanding and working with Trauma and developing inclusive teaching practices for working with Children with Special Learning Needs.
She also teaches in our part-time online and on campus courses:  Primary Class Teacher Rudolf Steiner Ed 1-6; Harmonising trauma and stress disorders through arts and movement; Arts short courses (sculpture, wood carving).
Over the past decade Tania has offered many Professional Development programs to Waldorf Teachers in schools around Australia and in Asia. Tania has qualifications including a Certificate in Steiner Education; Advanced Diploma in Rudolf Steiner Education; Certificate in Biography Counselling; Bachelor of Social Science/Counselling; Grad Diploma in Experiential and Creative Art; Masters of Therapeutic Arts Practice;  CERT IV TAE40116.
Where: outside the Art Rooms at the Seminar. Please wear comfortable clothes, hat etc. We will be in shade but can move indoors to airconditioned space if it is too hot to be outdoors.
Time: 3.30-5.30 pm including a break for afternoon tea.
Cost: $460 with all materials supplied.
Address: Melbourne Rudolf Steiner Seminar, 37A Wellington Park Drive, Warranwood 3134, 15 minutes from the Ringwood exit of the Eastern Freeway.
Information: Office on +03 9876 5199 or Tom Hungerford Short Courses Coordinator on 0452 592 903
This course takes place from Saturday 19th February 2022-Saturday 2nd April.
Note this includes the Labor Day long weekend when we still meet.
Applying online is very quick and easy! Click the button below to go to our rapid registration form, to confirm your place in this course.
Important enrolment information
The Seminar is obliged to follow the State Government's requirements for gathering on site, in relation to COVID restrictions. At the time of publication (Oct 2021) this means that anyone attending the campus must be double vaccinated by 26th November, or hold an exemption. If this advice changes, we will update our information accordingly.