Tango on a Sunday afternoon
"A good dancer is one who listens to the music. We dance the music, not the steps. Anyone who aspires to dance never thinks about what he/she is going to do. What they care about is that they follow the music. You see, we are painters. We paint the music with our feet."
– Carlos Gavito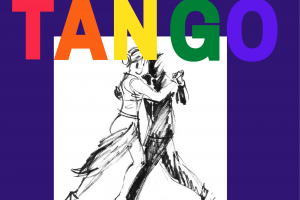 If you love music and movement you will love this 7 week program of Tango classes, every Sunday afternoon at the Seminar.
Tango is the language of intimacy and is highly communicative.  Tango dancer Carlos Gavito notes that "when you dance with a partner you are close and the dance is very suggestive but it is not personal: close is what the music inspires you to become. The embrace looks personal, but what we are actually embracing, is the music." 
In a heightened experience of communication with our partner, we find ourselves, and the other. 
"The beginning and the end of the tango is the walk." (Robert Duvall). If you can walk you join this course. 
From Tom and Tania your Tango tutors:
"There are many aspects of tango, which have made their way into the rest of my life. It has posed many questions. Is tango an analogy for relationships? How do I experience freedom in the practice of leading or following? How do I let go of the lower parts of my ego and seek consciousness and inspiration? For me, Tango is far more than a dance. It is always a pleasure and occasionally it is sublime. Therefore we always keep a pair of tango shoes in the boot of the car."
If you would like to read Tania's article published in the Anthroposophical Journal click here.
Tutors: Tania Hungerford and Tom Hungerford
Tania teaches in many of the courses at the Seminar, in both full-time and part-time programs. She has taught Tango to adults in many settings and has written about it as an artistic experience which supports human development in the Australian Athroposphical Journal. 
Tom Hungerford trained originally as a ballet dancer before pursuing studies in circus arts, folkdancing, folk music and education. He has been a teacher for three decades and teaches many subjects and courses at the Seminar. He says Tango is very precious to him.
Every Sunday afternoon from 4.00-5.30 pm. You can join as a single or with a friend/partner.
No experience necessary.
Cost: $200
Enrolment enquiries: Robin in the Seminar Office 03 9876 5199 or email office@steinerseminar.com
7 weeks from Sunday 24th July-Sunday 4th September 2022
Applying online is very quick and easy! Click the button below to go to our rapid registration form, to confirm your place in this course.
Important enrolment information
The Seminar is obliged to follow the State Government's requirements for gathering on site in relation to COVID restrictions. At the time of publication (Oct 2021) this means that anyone attending the campus must be double vaccinated by 26th November, or hold an exemption. If this advice changes, we will update our information accordingly.