The therapeutic gifts arising from working with the arts
"Art washes from the soul the dust of everyday life." ~ Pablo Picasso 
Participating in artistic work enables us to connect to ourselves as individuals, to explore our inner life and to develop new insights into who we are. It also enlivens us, bringing freshness and renewal through the creative journey. 
This program invites you to explore the therapeutic value of working with a range of artistic modalities. It is not an art therapy training, but does offer an experiential framework, based upon an anthroposophical understanding human development, for exploring the therapeutic effects of the arts in our lives.
This course is for everyone and requires no prior experience or specialist knowledge. It offers knowledge and skills  educators, therapists, and anyone wishing to bring richness into every day life and work.
The entire year's work speaks to a therapeutic application but we will also be exploring how and why it is brought into the classroom setting.
In a separate course offered in 2021  we focused on how the arts can harmonise trauma and stress disorders. In this we had an extensive theoretical study with artistic work woven throughout. In this course, we will come from a more intensive 'experiential' aspect with a greater emphasis on the 'doing'.
Through art we have an enlivened path for transformation – it is the place from which the  soul reaches out for health and wellbeing.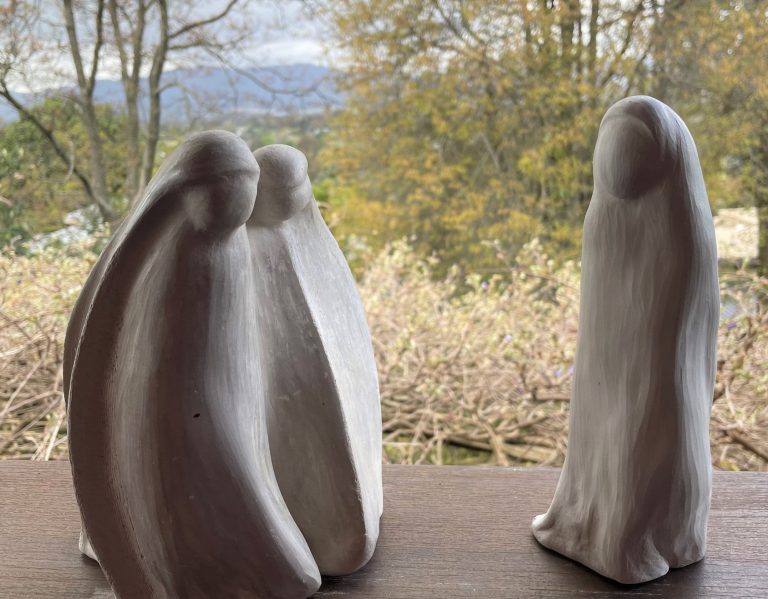 Working with clay builds will capacity and resilience, with  nourishing and healing benefits.  In clay modelling,  we have the opportunity to integrate our  thinking, feeling and willing. It is a  formative, forgiving and therapeutic material, full of potential to not only give us joy, but to take us to our limits and to teach us about ourselves. 
 Sculptural modelling works on human development in many ways. It provides our senses with a rich experience, enhancing our abilities on a physical level, as sensitivity and skills are developed in our hands.  It works on our emotional intelligence when it challenges and pulls us, when we try to find meaningful expression, and when we try to overcome our own hurdles, whatever they may be. It also works on intellectual abilities and thought processes, particularly on flexibility of thought. It is an ideal material to work with the dissociating forces stress experiences can pose. Finally, work with this malleable material enhances our will to accomplish and complete tasks in other fields.
"In all things of nature there is something of the marvellous." Aristotle
Over these two terms we will undertake nature observations using a variety of modalities including drawing, painting and modelling.
When we closely observe nature, we experience beauty in the body, take this into our memory which lives in the etheric body, allow it to enter our feeling life, strengthening and forming our inner core.
Goethean observation is a therapy for the senses, inviting trust in life, while harmonising body, soul and spirit. 
Term 1. The calming and centring effects of clay
Foundational clay work and the 4 lower senses.
Working with pure form and hand experiments.
Developing simple gestural pieces.
Term 2. Deepening exploration with clay
Extending our skills with gestural clay work.
The development of the will;
Bringing balance to thinking, feeling and willing.
Terms 3-4 Art inspired by nature observations
Goethean observation of forms in the natural world;
Enlivening water studies and the joy of creating folds;
Bringing order to chaos from the 2 dimensional to 3 dimensional.
Tania Hungerford has taught at the Seminar for more than 20 years and over this time has developed rich and meaningful learning experiences for the many students who have come to study here. She teaches across a range of courses and subjects, and also wears other hats as part of her multifaceted role here.
She brings a depth of experience working with adults out of anthroposophy, drawing on a comprehensive background of training in the areas of sculpture, social science, form drawing, biography work, counselling and art therapy.
At the Seminar, Tania is a first year coordinator of the full time Advanced Diploma of Rudolf Steiner Education, and teaches Steiner teacher training students in the following units: Sculpture, Form Drawing, the Twelve Senses, Human Development, the Four Temperaments, Goethean Observation, Professional Communication and Conflict Resolution, understanding and working with Trauma and developing inclusive teaching practices for working with Children with Special Learning Needs.
She also teaches in our part-time online course for Primary Class Teacher Rudolf Steiner Ed 1-8 and this year will be offering the first term of our on campus Saturday morning "Arts for meaning and connection' course.
Over the past decade Tania has offered many Professional Development programs to Waldorf Teachers in schools around Australia and in Asia. Tania has qualifications including a Certificate in Steiner Education; Advanced Diploma in Rudolf Steiner Education; Certificate in Biography Counselling; Bachelor of Social Science/Counselling; Grad Diploma in Experiential and Creative Art; Masters of Therapeutic Arts Practice;  CERT IV TAE40116.
This course takes place online every Monday evening from 7.00pm-9.15 pm. There is a short tea break midway through the evening.
Sessions will be recorded and uploaded to the student portal to view for the duration of the term.
You will need a computer (not a mobile phone) with sufficient internet bandwith and a camera to join in on Zoom.
Cost: $445 per term.
Materials: the cost of these is separate to the course fees. You will need to purchase or have access to artistic materials including:
A block of smooth hand building clay available from ceramic supply shops (10-15 kg). Cost approx $15-20
A3 and A4 paper and coloured pencils and crayons for form drawing. 
Tin of watercolour paints or watercolour pencils (optional but very nice for an aesthetic artistic experience.) Lyra paints and pencils are good quality. 
Enrolment enquiries: Carmen in the Seminar Office on 03 9876 5199.
Email: c.kwong@steinerseminar.com
Term 1: Monday 14th February -Monday 28th March 2022.
Note this schedule includes the Monday of the Labor Day long weekend.
Term 2: Monday 9th May- Monday 20th June
Note this includes the Queen's Birthday public holiday.
Term 3: Monday 18th July-Monday 29th August.
Term 4: Monday 3rd October-Monday 14th November.
Note this includes the long weekend of Cup Day.
The course is designed as a year long course; however we will accept entries into Terms 2, 3 or 4.
Withdrawing and refunds
If you wish to withdraw from a course, please send an email to office@steinerseminar.com.
·         If you withdraw prior to a course beginning we will refund any fees paid, less a $100 administration fee.
·         If you withdraw after the first session of the course, we will refund any fees paid, less a $155 administration and withdrawal fee.
·         If you withdraw after the second week, no refunds can be given.
Click below to confirm your place in this course.